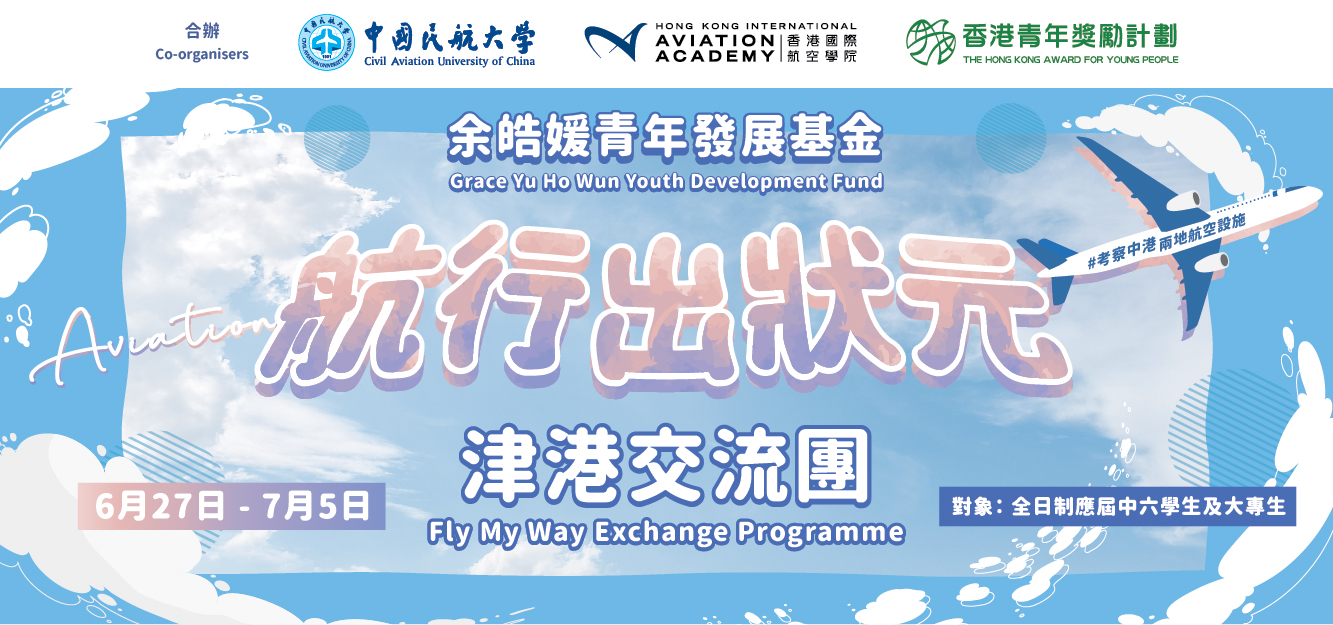 「航行出狀元 津港交流團 2023」5月3日截止報名
由中國民航大學、香港國際航空學院及香港青年獎勵計劃(AYP)合辦,余皓媛青年發展基金贊助的「航行出狀元 津港交流團 2023」將於6月27日至7月5日舉行。參加者透過親身考察中港兩地航空設施、參與航空相關課程及中港交流活動,藉此認識和了解兩地航空業的運作及挑戰,擴闊視野,探索發展機遇。
交流團現正接受報名,對象為全日制應屆中六學生及大專生,名額14人。歡迎有興趣的同學於5月3日(星期三)前透過以下連結報名。
報名參加/Registration:
https://www.ayp.org.hk/fly-my-way-exchange-programme-2023/
Co-organised by the Civil Aviation University of China, the Hong Kong International Aviation Academy and The Hong Kong Award for Young People, and sponsored by Grace Yu Ho Wun Youth Development Fund, the "Fly My Way Exchange Programme 2023" will be held from 27 June to 5 July. Participants will visit aviation facilities in China and Hong Kong, participate in aviation-related courses and exchange activities to learn about the operations and challenges of the aviation industry in the two regions, broaden their horizons and explore development opportunities.
The exchange programme welcomes secondary 6 students and students from Tertiary Education Institutes to apply. Only 14 places are available. The recruitment deadline is 3 May (Wed). For more information and to register, students may visit the link above.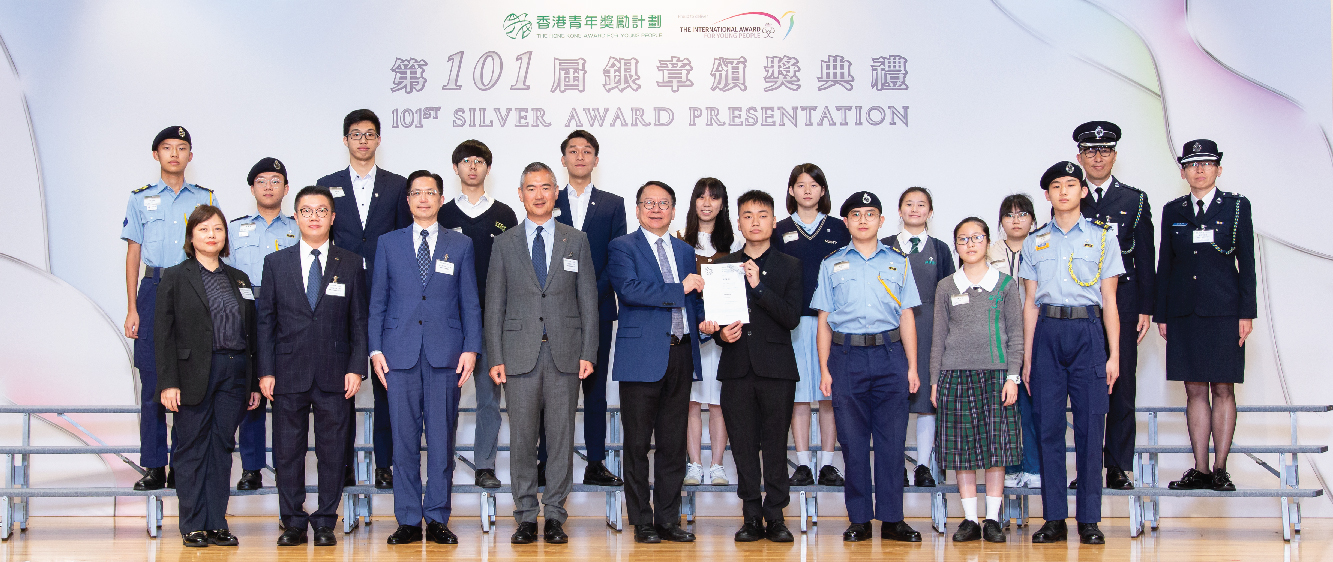 第101屆銀章頒獎典禮順利舉行
AYP 第 101 屆銀章頒獎典禮於4月3日在可風中學 (嗇色園主辦) 圓滿舉行。是次頒獎禮邀請到政務司司長陳國基先生,GBS, IDSM, JP 作主禮嘉賓,並與獎勵計劃理事會主席郭永亮先生,JP、獎勵計劃理事會副主席彭穎生先生,MH、以及一眾嘉賓共同見證得獎者的重要時刻,肯定他們每一位的努力和堅持。
在典禮上,3位銀章得獎者獲邀於現場一起表演技能科的項目,分享銀章旅程點滴。他們都透過AYP活動體驗各行各業的工作,認清職業路向和興趣,擴闊視野及社交圈子。最後,他們鼓勵在座得獎者帶著完成銀章的幹勁邁向日後的金章旅程。
The 101st Silver Award Presentation was successfully held on 3 April. It is honoured to have the Guest of Honour, The Hon. Mr. Chan Kwok Ki, GBS, IDSM, JP, Chief Secretary for Administration, to officiate our presentation. Mr. Andy Kwok Wing Leung, JP, Chairman of Award Council, Mr. Victor Pang Wing Seng, MH, Vice-Chairman of Award Council, Award Council Members and guests also joined to witness the meaningful moments of our awardees.
3 of our Silver Award Recipients also performed the skills they acquired during the Silver Award Journey. Through AYP's activities, they can identify their career goals and interests, and broaden their horizons. Finally, they encouraged the recipients to continue their journey towards the Gold Award.
相簿 Photo Album:
https://photos.app.goo.gl/HNEwZWezt1jpT1eV8

團體生活科「演出真我」交流營圓滿結束
為期五日四夜金章級團體生活科「演出真我」交流營圓滿舉行。在閉幕禮上,大會很高興邀請到AYP總幹事陳潔儀女士、匡智張玉瓊晨輝學校朱佩雯校長及樂智協會總幹事關佩英姑娘前來擔任評審,一同支持和欣賞參加者們的表演,肯定各位努力的成果,見證他們順利完成團體生活科。
是次交流營結合了不同的藝術元素,除了唱歌跳舞和表演音樂劇外,參加者還可以體驗紮染、畫畫和設計,讓大家嘗試以不同方式表達自我,一眾參加者更為自己的紮染成品感到滿足!大會亦樂見參加者的成長,盼望他們能繼續勇於表達自己的意見。
The 5-Day-4-Night Gold Level Residential Project Camp "Show Yourself" was held successfully. In the closing ceremony, we were honoured to have our judges, Ms. Joyce Chan, Chief Executive Officer of AYP, Ms. Chu Pui Man, Principal of Hong Chi Winifred Mary Cheung Morninghope School and Ms. Kwan Pui Ying, Executive Director of Lok Chi Association to support participants' performance. Congratulations to all participants for completing their Gold Level Residential Project Section!
Residential Project Camp "Show Yourself" combined different art elements. Not only singing and dancing for musicals, they also tried tie-dying and drawing design to explore themselves in different ways. Participants were excited to show their tie-dye works! Hope they can continue to express their thoughts.