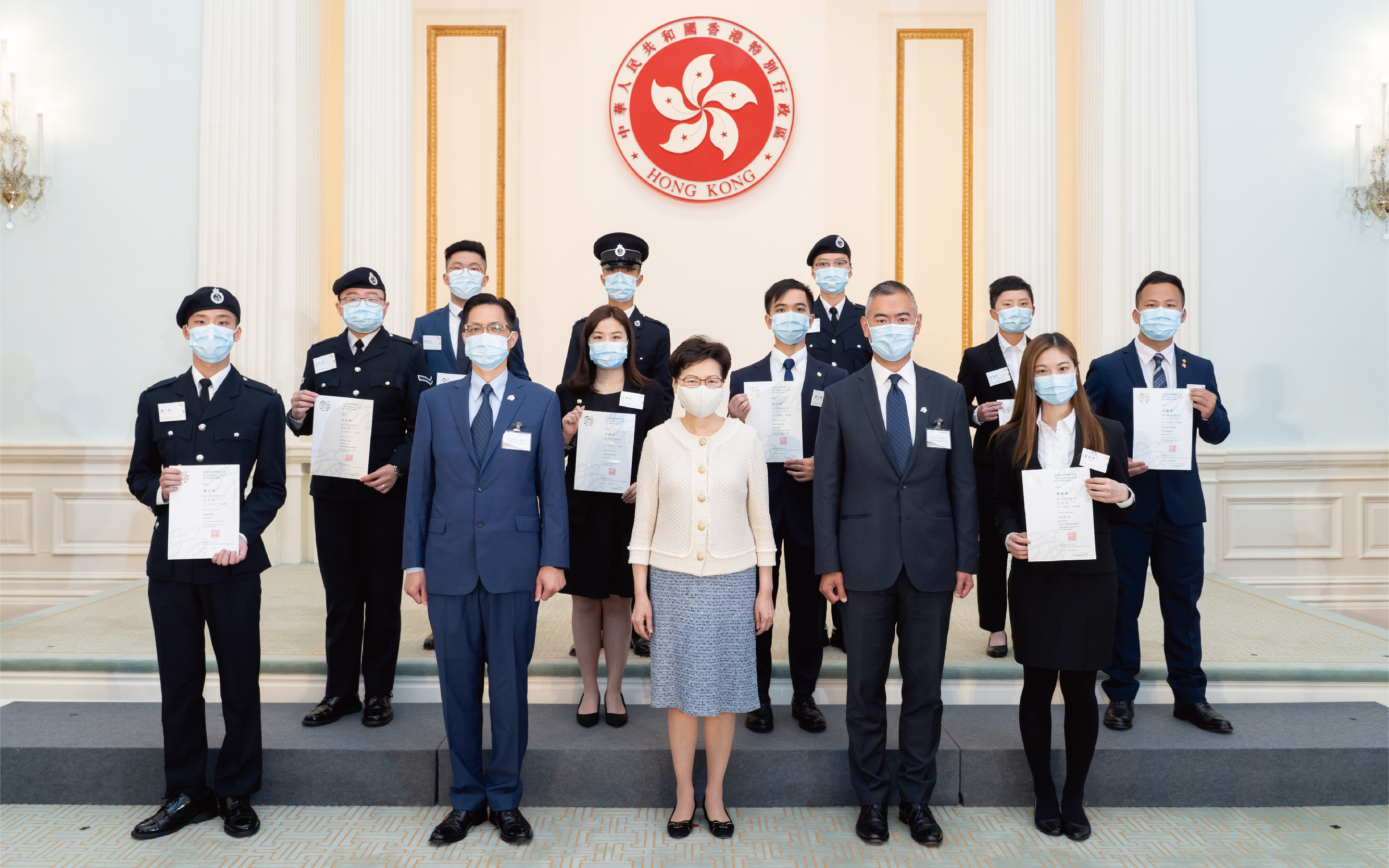 香港青年獎勵計劃金章頒獎典禮2019及2020於2021年4月24日(六)下午假禮賓府圓滿舉行。兩屆共有79位金章得獎者及55位長期服務義工。得獎者於主禮嘉賓香港特別行政區行政長官林鄭月娥女士,大紫荊勳賢,GBS手上接受嘉許,甚具意義。今年的得獎者包括8位來自匡智張玉瓊晨輝學校及1位來自樂智協會的青年人。憑著努力不懈的精神,他們在章級旅程中成功跨越挑戰,成為一位多元的金章持章人。為減少社交接觸及保持社交距離,場地實施了一系列的防疫措施。頒獎典禮分成兩個場次舉行,而每個場次的來賓均以隔板分成小組。
The Gold Award Presentation 2019 & 2020 was held on 24th April 2021 (Saturday) at Government House. We are honored to have The Hon Mrs. Carrie LAM CHENG Yuet-ngor, GBM, GBS, Chief Executive of HKSAR, to present Certificates to Gold Award recipients and recipients of Certificate of Recognition. There are total 79 Gold Award recipients and 55 devoted volunteers who achieved the Certificate of Recognition. This year's recipients include 9 youngsters from Hong Chi Winifred Mary Cheung Morninghope School and Lok Chi Association. With their never-give-up spirit, they surpassed challenges during the journey and become diverse Gold Award holders. In order to reduce social contact and maintain social distance, a series of precautionary measures were implemented. The presentation was held in 2 sessions and guests of each session were divided into small groups by partitions.



第九十九屆銀章頒獎典禮於2021年4月19日(一)傍晚假香港培正中學順利舉行。是次頒獎禮邀請到政務司司長張建宗先生,大紫荊勳賢,GBS,太平紳士作主禮嘉賓,並由獎勵計劃理事會主席羅仁禮先生,MH,太平紳士陪同,嘉許一眾勇於挑戰自己的銀章得獎者及默默付出的長期服務義工。是次頒獎典禮限制了出席人數,並以隔板分隔每一小組,以保障在場人士的安全和減低人群聚集。
The 99th Silver Award Presentation was successfully held on 19th April 2021 (Monday) at Pui Ching Middle School. We are honoured to have The Hon Matthew CHEUNG Kin-chung, GBM, GBS, JP, Chief Secretary for Administration to be our Guest of Honour. He was joined by Mr. LO Yan-lai, MH, JP, AYP Award Council Chairman, to present Silver Award Certificates and Certificate of Appreciation (3 years and 7 years of services) to our recipients. This year, we have limited the attendance and separated the attendees into small groups. We hope to ensure the safety of our guests and reduce social contact.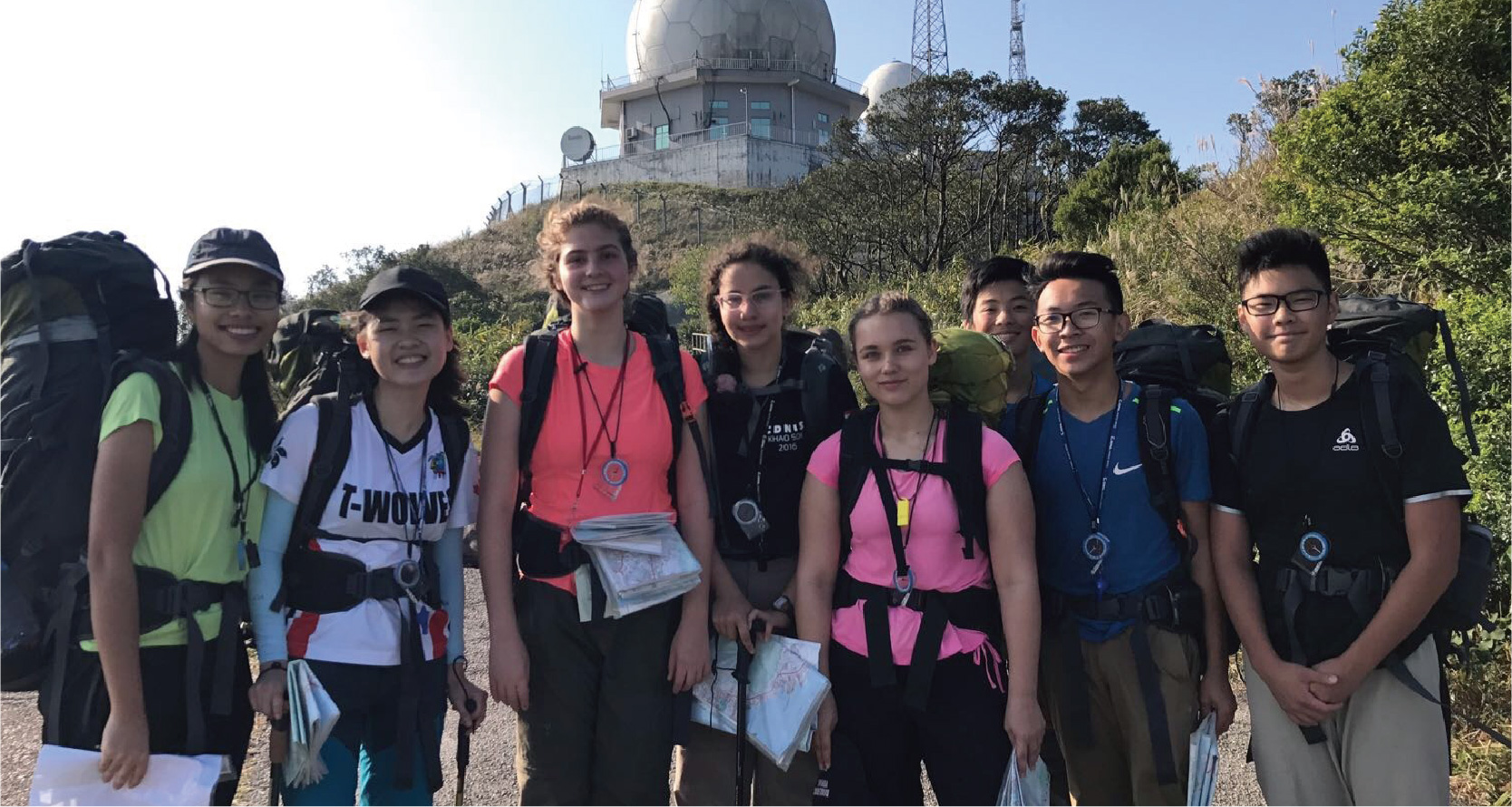 好故事分享 — Gitanjali Anna Pies
(學校執行處 - 香港加拿大國際學校)
我認為在金章旅程最大的挑戰是在團體生活中與同伴撇開分歧,上下一心去完成不同的任務。我們每個人都有各自的長處和弱點,只有不斷反思和學習,才能讓自己成功。
Sharing of Good Story - Gitanjali Anna Pies
(Schools Operating Authority - Canadian International School of Hong Kong)
I think the biggest challenge was working as a team over the course of the journey. We realised we need to put our differences aside, stop thinking about our limitations, and begin to think and act as one. We had our own strengths and weaknesses, and it was only when we began to reflect and improve that we made ourselves successful.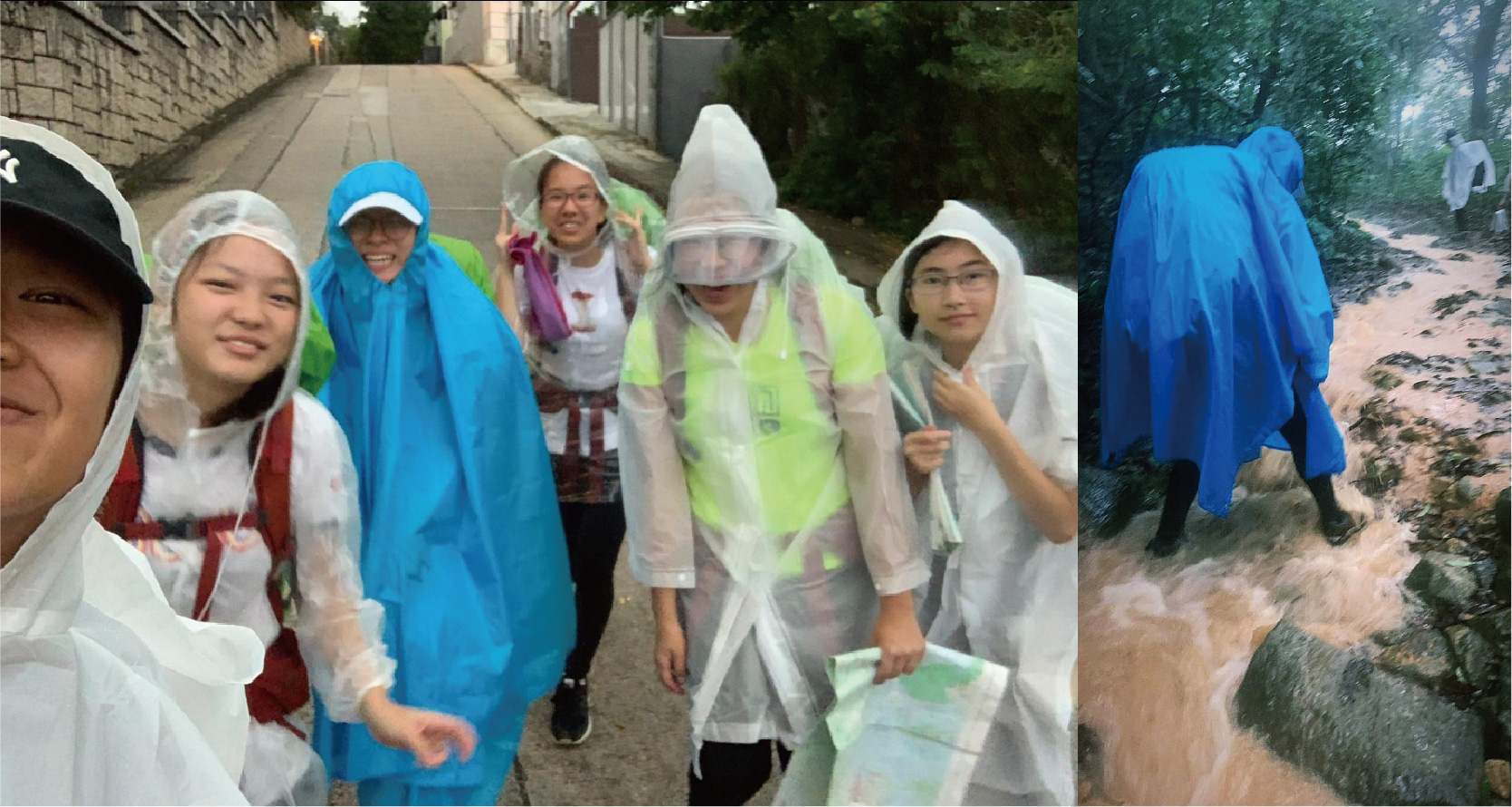 好故事分享 — 董嘉慧
(學校執行處 – 真光女書院)
野外鍛鍊科與同伴經歷風雨的片段令我留下深刻印象。在一天的雷暴和黃雨下,由上游流下來的黃泥水已及小腿位置,大家都有點不知所措。在隊友們的互相鼓勵下,我們順利完成行程。在最後一段路,終點近在眼前時,自己真的很感動。
Sharing of Good Story - Miss TUNG Ka-Wai
(Schools Operating Authority - True Light Girls'College)
Our Expeditions journey was full of challenges, including full day thunderstorms and amber rainstorm signal. I was touched when we finished the task.