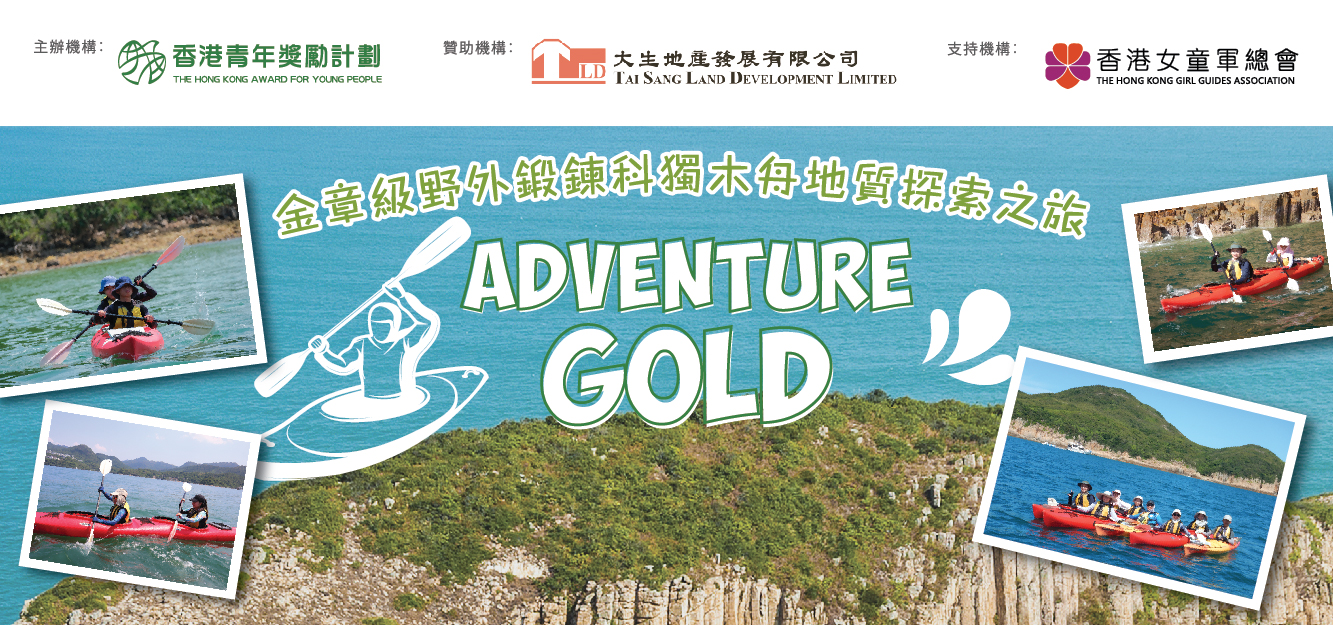 Adventure Gold - 金章級獨木舟野外鍛鍊科地質探索之旅
由AYP主辦、大生地產發展有限公司贊助,並獲香港女童軍總會擔任支持機構的「Adventure Gold-金章級獨木舟野外鍛鍊科地質探索之旅」已經順利完成。一眾學員經歷3個多月的訓練後,於10月1日至4日展開評核旅程,在獨木舟上探索香港聯合國教科文組織世界地質公園。出發當天更邀請到香港教育大學健康與體育學系高級講師雷雄德博士擔任啟航禮的主禮嘉賓,雷博士除了到場勉勵學員外,還親身陪同他們划獨木舟出發。
學員在四日三夜的旅程中遊經印洲塘、荔枝窩、吉澳等地方,不但考察了當地的自然景觀,更透過旅程了解保育的重要性。最後學員們順利完成旅程,留下畢生難忘的回憶。
Organised by AYP, sponsored by Tai Sang Land Development Limited and supported by The Hong Kong Girl Guides Association, "Adventure Gold - Gold Level Canoe Adventurous Journey Training Course" was successfully held this summer. The participants went through their assessment journey by canoeing to the Hong Kong UNESCO Global Geopark from 1st to 4th October after 3-month training. We were honoured to have Dr. LOUIE Hung Tak, Lobo, Senior Lecturer of Department of Health and Physical Education, The Education University of Hong Kong to support our participants. He also set off with the participants and paddled with them for a distance.
During the 4-day-3-night journey, they travelled and explored many natural attractions like Yan Chau Tong, Lai Chi Wo, and Kat O, admiring the beauty of the natural features. The participants completed the journey successfully and it would surely be a memorable experience for them.

「與軍銅行」結業禮
「與軍銅行」結業禮於2022年10月23日順利舉行。是次活動邀請到獎勵計劃理事會主席郭永亮先生,JP、理事會副主席彭穎生先生,MH、香港少年領袖團司令黃衞民上校,ED、香港航空青年團司令陳孟麟上校,IDSM及香港海事青年團副司令(訓練及發展)葉穗邦中校及各團體其他嘉賓出席,一同見證學員的成長。參加者代表們亦向各位嘉賓分享他們在活動中的得著及感受。是次計劃有22位學員完成銅章級要求。AYP期望將來能夠與更多的執行處合作,為參加者舉辦各種有意義的活動。
「與軍銅行」是由香港青年獎勵計劃聯同香港少年領袖團、香港航空青年團及香港海事青年團舉辦的銅章級活動,為參加者提供一連串海、陸、空的活動,參加者不但可以了解各機構的特色,更可一氣呵成完成四科活動,獲得銅章。
The closing ceremony of 'AYP Walks Along With CORPS' was successfully held on 23 October, 2022. We were honoured to have Mr. Andy KWOK Wing Leung, JP, Chairman of Award Council, Mr. Victor PANG Wing Seng, MH, Vice-Chairman of Award Council, Colonel Matthew WONG Wai Man, ED, Commandant of Hong Kong Adventure Corps, Mr. CHAN Man Lang, IDSM, Commanding Officer of Hong Kong Air Cadet Corps and Cdr YIP Sui Pong, Deputy Commanding Officer of Hong Kong Sea Cadet Corps, and other guests from the four parties, to witness the growth of our participants. Participants also shared their experiences and happiness throughout the programme. 22 of them completed the Bronze Level requirements from the programme. We hope to launch more meaningful activities for young people with other Operating Authorities in the future.
'AYP Walks Along With CORPS' was a Bronze Level programme that was co-organised by AYP, Hong Kong Adventure Corps, Hong Kong Air Cadet Corps and Hong Kong Sea Cadet Corps. It provided a wide range of land-air-sea activities for participants. It was a valuable opportunity for the participants to gain an understanding of the culture and characteristics of different organisations, as well as to complete Bronze Level in one programme.

AYP「圖出山野 中銀人壽慈善賽 2022」11月13日如期實體舉行
好消息!11月13日圖出山野中銀人壽慈善賽2022成功獲政府批准豁免第599G章 《預防及控制疾病(禁止聚集)規例》,慈善賽將如期實體舉行。
是次慈善賽出發安排有別以往,參賽者將會分批、每組最多50人出發,因此不同組別的登記時間都會有所不同,請大家留意大會稍後發出的電郵,按照報到時間到場。
另外,為保障參賽者安全,各位參賽者和義工都須要符合以下要求才可以入場或出賽:

1. 符合疫苗通行證要求(藍碼)
2. 比賽日前48小時內須完成2019冠狀病毒核酸檢測(PCR)
3. 比賽當日到場前自行進行快速抗原測試(RAT)
4. 填寫健康申報表
約定各位11月13日見!
Good news! BOC Life Rogaine Charity Race 2022 has been successfully approved by the government to exempt the Prevention and Control of Disease (Prohibition of Group Gathering) Regulation (Cap. 599G), and the physical race can be held as scheduled instead of the virtual race format.
The starting arrangement for the race is different from the previous one. Participants will start in batches with a maximum of 50 people per group, thus the registration time for different groups will be different. Everyone should pay attention to the confirmation email for registration time.
In addition, in order to ensure everyone's health and safety, all participants and volunteers must comply with the following requirements before entering the venue and starting the race:

1. Comply with the COVID-19 vaccination requirements and hold Blue Code
2. PCR-based nucleic acid test must be completed within 48 hours before the race
3. Present a negative result of a rapid antigen test (RAT) before you arrive on the event day
4. Fill out the health declaration form
See you all on 13 November!