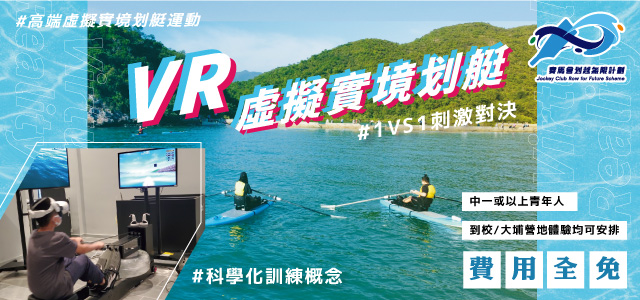 賽馬會划越無限計劃
承蒙香港賽馬會慈善信託基金捐助,香港青年獎勵計劃推行為期三年的「賽馬會划越無限計劃」。計劃透過室內的虛擬實境划艇,提升青年人對新興水上活動的興趣和認識,並吸引他們進行戶外水上平板賽艇訓練及海岸旅程等,藉此普及賽艇運動及宣揚奧林匹克價值觀。
疫情逐漸緩和,實體活動現正接受報名。體驗活動包括虛擬實境(VR)划艇體驗及平板賽艇體驗,費用全免。於VR划艇體驗中,參加者只要戴上VR眼鏡,配合划艇機即可親臨其境,享受划艇樂趣。除了可選擇於賽馬會愛丁堡公爵訓練營進行體驗外,亦可安排到校或機構進行活動。而平板賽艇體驗則讓參加者於賽馬會野外鍛鍊中心學習平板賽艇基本技術,並暢遊西貢斬竹灣水域。
如有任何查詢,歡迎致電2791 4321或電郵至rowing@ayp.org.hk與陳先生聯絡。
VR虛擬實境划艇體驗 — 報名連結
平板賽艇體驗 — 報名連結
With the generous support from The Hong Kong Jockey Club Charities Trust, AYP introduces the Jockey Club Row for Future Scheme, which will last for 3 years. The Scheme will help young people to develop knowledge and interest in water sports through indoor VR rowing, and lead them to start outdoor board rowing training and coastal rowing journeys. We aim to popularise rowing sports and deliver Olympic values throughout this programme.
Following the easing of pandemic measures, physical programmes including Virtual Reality (VR) Rowing Experience and Board Rowing Fun Day are now welcoming registration for free. In VR Rowing Experience, participants can enjoy rowing in a simulated environment with the help of VR headsets and specially designed rowing machines. On-site services could be provided for schools and groups. In Board Rowing Fun Day, participants can learn about board rowing techniques at Jockey Club Expeditions Centre and paddle along the coast at Sai Kung.
For more information, please contact Mr. Chan at 2791 4321 or rowing@ayp.org.hk.

夏之初營地樂【6月訂營優惠】
夏天即將來臨,天氣正好適合大家到郊外舒展身心!為答謝獎勵計劃知友、執行處伙伴、獎勵計劃網絡成員、科委員會、野外鍛鍊科導師和義工一直以來對AYP的支持,賽馬會愛丁堡公爵訓練營於6月期間推出8人同行激賞優惠!激賞套餐包括一晚住宿、精選三道菜晚餐、翌日早餐和3選1指定活動,逢星期一至四訂營優惠價只需$1,800,星期五至日亦只需$2,000!歡迎以上人士與家人及朋友8人入營,享受兩日一夜精彩營地活動!如欲報名及了解更多詳情,請瀏覽以下網頁。
夏之初營地樂(星期一至四)— 報名連結
夏之初營地樂(星期五至日)— 報名連結
We are stepping into summer and the weather is perfect for outdoor play! AYP introduces an exclusive discount to AYP friends for their all along support! Friends of AYP, Award Network members, Operating Authorities partners, Section Panels members, Adventurous Journey Instructors and volunteers are eligible to book our camp for 8 people at $1,800 only on Monday to Thursday, and $2,000 only on Friday to Sunday in June. The package includes 1-night accommodation, dinner & breakfast, and 1 of 3 selected activities. For more information and registration, please visit the following websites.
Booking Form (Mon-Thu) — Link here (Chinese Only)
Booking Form (Fri-Sun) — Link here (Chinese Only)

賽馬會營聚這一家計劃
「賽馬會營聚這一家計劃」於2021年開展至今,一直透過活動為父母與子女增加親子間的互動機會,提升他們的溝通和促進家庭和諧。AYP於5月舉行了兩次實體活動,主題分別為康樂體育科的「動.一家」和技能科的「藝.一家」。「動.一家」的其中一項活動為親子攀石,子女與父母分別寫下對彼此的心意,然後透過攀石取得手寫信。而「藝.一家」的活動包括藍染體驗,家長與子女都要一同發揮創意,動手製作布袋。在接下來的6月,AYP將舉行野外鍛鍊科的「野.一家」活動,親子能夠一同紮營,可以接觸大自然之餘,亦可感受戶外氣息。以上各個主題的體驗活動都能讓子女發掘自己的喜好及強弱項,父母亦能更了解子女的性格、能力和興趣。
Since the launch of Jockey Club 'Camily' Project in 2021, AYP has organised camp activities to increase parent-child interactions, build up their mutual appreciation and enhance their relationships. In May, we organised two physical events with the theme of Physical Recreation and Skills, which are "Sports Family" and "Art Family" respectively. In "Sports Family", parents and children could write letters to each other and get the letters through sport climbing. In "Art Family", they unleashed their creativity by designing "Egg Parachutes" and Tie-dye bags. Last but not least, "Wild Family", with the theme of Adventurous Journey, will be held in June to provide an opportunity for families to experience camping as well as outdoor activities. We hope to explore children's interests and traits by providing them with different camp experiences. Parents can also have a better understanding of their children.